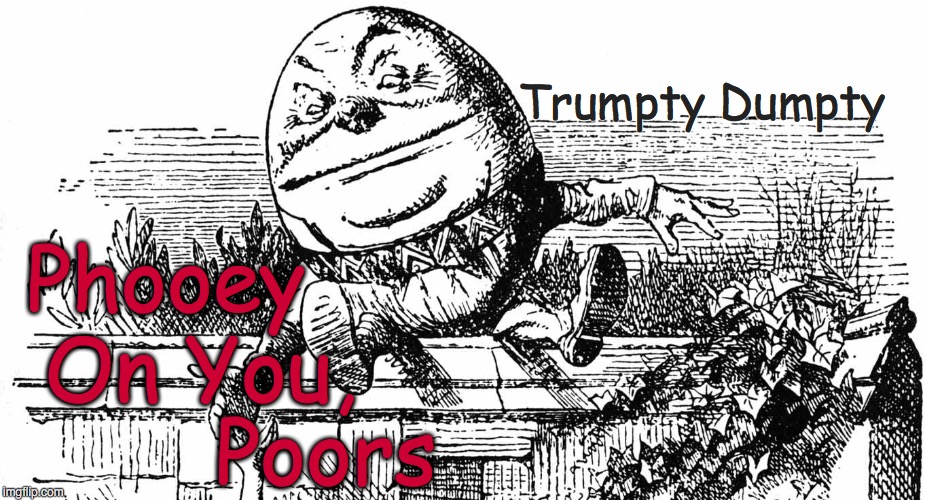 [image source]
It is Saturday, Day 679 of Our Great Leader's Ascension to The Throne, which means it is time for another fairy tale*:
Once upon a time, in a land far away, The People elected The Leader who was unlike any other they have seen before — not in Their Land. Other peoples Elsewhere had their share of such leaders time and again, and so they knew what it meant, but The People didn't and wouldn't listen to Elsewherians when they tried to warn them. Well, to be accurate, some did — but will get to that later.

The Leader was everything The People wanted and then some. His spectacular and flamboyant daily doings and undoings — though the latter were less visible — mesmerized and occupied The People's minds and were subject of endless, heated debates.

Some believed the un/doings were exactly what Their Land needed, while Others vehemently disagreed. The chasm between Some and Others grew wider each day, and The People were at loss to understand why.

As time passed, and chaos and violence grew in Their Land and Abroad, what with The Leader's wars as foreign policy and his desire to show himself The Mightiest Leader of All, more and more of The People started to notice things about The Leader that they did not see before.

He would say unusual things — like, for example, that the sky was purple; and His Henchmen ran into Town Squares and Twitter to assure each other and The People that the sky was as purple as Italian plums.

The People looked at the sky, and even though it still seemed blue to most, they were not really sure now. Because if Everybody sees purple, who am I to question that? went the Average Person's reasoning.

Or, soaking wet from rain during one of his triumphant, though scary as hell rallies, The Leader would declare this to be The Sunniest Day ever on account of his Magnificent Speech. (#truefact)

He would say that the health care he gave The People was the best, but it was hard to hide any longer that more people than ever were dying from treatable and preventable diseases because they could not afford to see a doctor. Or he said that his job creation programs and environmental policies were Making Their Land Great Again, when more and more of The People found themselves in perpetually jobless despair, unable to find free drinkable water and clear air to breathe. (#alsotruefactsoon, #freemarketrules)

Little things like that started to add up in The People's minds.

Some also began to notice that as the disorder in Their Land intensified, The Leader's life and that of His Henchmen grew more lavish and carefree.

It didn't seem right, but there was no good explanation for what they saw. After all, The Leader was the greatest ever — he said so himself and they believed him, even as their doubts grew in spite of their Proper Judgment (TM).

As it is often the case in such times of confusion in Their Land, The People started to ask, WTF?, and, naturally, turned to The Experts for explanations.
to be continued
====
*This is a fairy tale, obvs. So any possible similarities between its characters and situations, and those of actual people and their increasingly wtf-ish reality are purely coincidental, totally unintended, and, seriously, just imagined by you, dear reader. The sky is still pur… blue and the wars have not started. Yet. Now go take a deep breath, if you still can.